There's no shortage of research on consumer preference for brands that have an eye on sustainability. We want to know the products we use are doing as little to harm the environment as possible.
Consumer packaged goods (CPG) companies put a lot of time and energy into their products and packaging, and it's important that just as much attention is given to the label. Meticulously sourcing product ingredients and then turning around to slap on a label that's harmful to the environment is taking one step forward and two steps back.
Here are five things brands can (and should!) think about when it comes to labels and their impact on overall sustainability.
Sustainable Sourcing
Just like the materials that go into a product, the materials that are used in a label matter. Where did it come from? How was it harvested and processed?
We may sound like a broken record when we make the comparison, but it's important to put a similar level of care into the labeling process as is invested into the product. A fair trade product with an unrecyclable polypropylene label is an oversight.
Luckily, there are experts—like our Labeltronix team and our partners at Wausau Coated—to help you navigate label material sourcing.
Renewable & Alternative Materials
One way brands can jump into label sustainability is by asking about label material options. Many of our most popular papers are sustainably sourced, Forest Stewardship Council (FSC) certified, and made from Post-Consumer Recycled (PCR) materials.
The industry has also come a long way in non-wood materials for labels that still maintain the wet strength benefits we know and love. Wausau offers label materials made from the following:
Cotton

– Made from cotton fiber waste created in textile and similar industries

Hemp

– A green option, great for cannabis products

Agave Fiber

– Byproducts from agave processing—distillers can have agave in and on their products

And many more!
Your label helps tell your brand's story—why not use materials that boost that story?
Label Byproducts
An oft-overlooked impact of labels is the byproduct from printing and transport. Every role of labels comes with a liner, which creates a significant amount of waste. It's easy for brands to forget about this part of the process, especially if your labels are sent right from the printer to the bottling facility.
A few things you can do to help reduce the impact of liner byproduct from your labels include:
Ask for smaller gauge liners—many manufacturers are moving from the old 2.6 mil standard to 2.0 and even 1.6 mil.

Properly dispose of the liner—this may fall out of your purview, but you can ask your bottler about it. Facilities are starting to take liner and giving it a new life. Here in California,

Circular Polymers

takes PET liners and makes pellets, fibers, and other materials.

Use liners made of PCR—There are liners made of recycled materials that have a smaller environmental impact than those without.
A lot of conversations about label byproducts are happening in the industry as suppliers, manufacturers, and printers work to bring more sustainable options to the market.
Package Recyclability
What a shame it would be if a brand put a lot of effort into making a package recyclable and then ruined it with a labeling oversight. Did you know that some packages, like cans and bottles, can be rejected (or sent to the landfill) from recycling facilities because of a label?
Depending on your packaging materials—glass bottles, aluminum cans, plastic pouches or canisters, etc.—you have to think about recyclability when it comes to your label.
Each type of packaging will have different recyclability considerations, so it's a topic to bring up to your labeling partner.
Consumer Education
You may have started to see labels that instruct the consumer how to recycle each part of a package. That's an industry-wide initiative to help get materials where they need to go for recycling.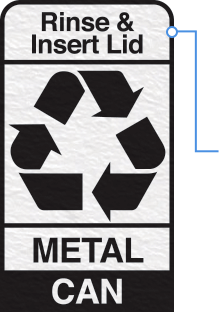 If it makes sense, you can include the proper label designation so your customers know how to dispose of your package once they've used the product.
You can also encourage your customers to re-use your packages, like FOND Bone Broth does with its glass jars.
Wrapping Up
There are a lot of things to consider when it comes to label sustainability—many of which are easy to overlook.
Talk to one of our experts, and we'll work with our partners at Wausau Coated and elsewhere to help you work toward your sustainability goals.&